Catherine (Kate) Newland was Grandad Ernest John Conway's mother, having married Isaac Conway on 19th September 1886 at St Chad's Church, Derby (demolished in 1996). Grandad was their first child, born 2nd April 1887.
Grandma Kate's parents, John and Mary Anne Elizabeth (née Ashmole) Newland grew up in military families, in India. In fact, Kate was born at sea, on board the S.S. Tyburnia, returning the family to England from Poona to Portsmouth. 
Quartermaster Sergeant 4325 John NEWLAND (56th [West Essex] Regiment of Foot)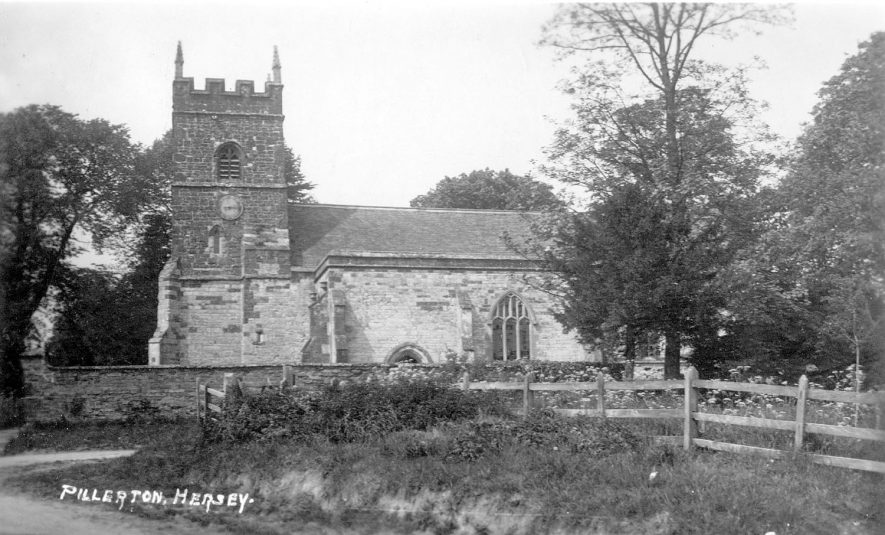 Kate's father, John Newland, was born at Pillerton Hersey, Warwickshire, on 15th April 1835. His father, also John, was a farmer, married to Sarah (née Gardner) and John was their oldest son, (third child of eight). They had married on 11th August 1829 at St Mary the Virgin Church, Pillerton Hertsey (right).
John had two older sisters, Mary, born in 1832, and Katherine Elizabeth, born 20th July 1833. His five younger siblings were Eliza Ann (baptised 19th January 1837), William (born 17th May 1840), Emma (bapt. 30th June 1840), Caroline (bapt. Christmas Day 1843) and Joseph (bapt. 10th August 1845).
His mother, Sarah, died, aged 47, on 13th October 1847 and his father, John Snr., on the 19th November 1853, aged 63.
It would seem the farming life did not appeal to John Jnr., however, because at the age of 20, on 10th September 1855, he travelled to East Grinstead, Sussex, to enlist in the 56th (West Essex) Regiment of Foot.
His Service Papers show that John served in Malta for 193 days and spent a further 13 years 273 days in what was termed the "East Indies", but was actually India.
John was promoted from Private to Corporal on 9th October 1858 and to Colour Sergeant on 26th May 1864.  In between these dates he married Mary Anne Elizabeth Ashmole, at St John the Evangelist Church, Colaba, Bombay, on 9th October 1861.
(N.B. The church is also known as "The Afghan Church", as it was built a memorial to the thousands of soldiers who died at the First Anglo-Afghan War.)
The ship bringing the family home left India on 16th December 1865, arriving in Portsmouth on 7th April 1866. Quartermaster Sergeant John Newland spent another 11 years with the Regiment, based in Stratford-on-Avon, Warwickshire.
He was finally discharged on 8th January 1877, having earned the General Service Medal and four Good Conduct Medals. His final report from his Commanding Officer was generally very good.
The Census of four years later (1881 Census RG 11/3103) sees John and his family living at 25 Willowsbourne Road, Old Stratford, where he was working as a "Brewers Clerk". Ten years later (1891 Census RG 12/2735) the family had moved to Derby. Daughter, Kate, had met and married Isaac Conway, on 19th September 1886, and Grandad had been born on 2 April 1887.
John, now employed as an "Insurance Agent", was living with Mary at 8 Yates Street, Derby. She died  on 11th October 1895 at 3 Abbey Street, Derby, and John moved to 91 Boyer Street (1901 Census RG 13/3218). He died at that address of 'Bronchitis' on 25th September 1906, aged 71.
The couple are buried in Nottingham Road Cemetery, Derby, (left) Grave 23444.
It is tempting to think that the young Ernest John Conway had been fascinated by listening to his Grandfather's stories of his time in the Army and in India.
Who knows, maybe this gave him the idea to leave home himself and join the Cheshire Regiment in 1905 – shortly before it too left for India.