Captain Bertie Errol MASSY – (2nd i/c 'A' Company)
Wounded and Captured: 25 October 1914 (?)        Repatriated: 18 November 1918
Personal: Bertie was born on 1st November 1883 at Tenby, Pembrokeshire, Wales. He was the son of Haworth Peel ('Income Derived from Land') and Anne Justina (née Davies-Lloyd) Massy.
He had an older sister, Muriel Kathleen, and three older brothers, John Hamon, Hugh Dillon and Haworth Peel. [See Footnotes below]
Three other children were born to the family, all of whom died in infancy.
The family made the local press in April 1886 after their Cook, Mary Bevan, was accused of serving Bertie with: "…beef tea in a state unfit for human consumption". The charges were, however, dropped, with an apology, and some compensation paid for the costs.
In 1891 (Census RG 12/4528) the family was living at 4 South Cliff Street, Tenby. Ten years later (1901 Census RG 13/1039) the family had moved to Bournemouth, Sussex.
Bertie's 'War Office Service Record' states that he was educated at Downes House School, Clifton, Bristol, but by 1901 18 year old Bertie had moved to Blenheim Barracks, Farnborough, Hampshire, 'Living on his own means', as an Officer Cadet. (Census RG 13/1105). When he enlisted the following year the same source states Bertie was 6 feet tall (1.83 m.).
Bertie was a prisoner-of-war when his father, Haworth Peel, died on 28th October 1916, at 31 Rutland Gardens, Hove,  Sussex, aged 74. Probate Records show he left £2960 19s 1d to his widow. Anne Justina. [£2960.95 has an equivalent value of about £330,000 today – 2023.]
On 22nd June 1918, whilst still interned as a prisoner-of-war in Holland, Bertie married Gesina van Enst, a Dutch national, at the Bad Kapel, Sheveningen. Their Reception was at the Hotel van der Pijl. (Source: Oak Tree Magazine, 1918, pps. 116-120) Gesina had a daughter, Carolina Helena Versteegh, born 1st May 1902, from an earlier marriage to Hendrik Adriaan Versteegh,
In keeping with many other returning Officers it is likely he returned to his duties with the Regiment in Ireland. Bertie is mentioned in a 1921 electoral roll living at 31 Rutland Gardens, Hove, Sussex, with Anne Justina Massy (his mother) and Hugh Dillon Massy (his brother). The same address is on Bertie's Medal Index Card. He had almost certainly retired from Army Service by then.
His widowed mother, Anne Justina, was 84 when she died at 152b Trinity Road, Wandsworth Common, London, on 27th November 1935.
Bertie eventually moved to live in Holland with his wife, Gesina. He was still living there when she died, aged 81, on 22nd June 1960 at Van der Houvenstraa, 69, s-Grevenhage (the historic name for 'The Hague').
Her obituary notice (right) reads, in part: "our deep sadness … our dearly beloved wife, grandmother and great-grandmother". As well as Bertie, the notice is from Gesina's daughter, now Mvr. Carolina Helena van Linge, and her husband and daughter. The last paragraph states that ".. the funeral was held today in silence".
Bertie died on 31st December 1981 in Amstelveen, Noord-Holland, aged 98.  This means he was the last surviving officer of the Original 1st Battalion.
Military History: Bertie's 'War Office Service Record' states that he enlisted in the Cheshire Regiment, from the Militia, on 11th November 1901 and was posted to Malta on 8th December of that year, where he remained until 28th June 1904. From there he was posted immediately to South Africa, returning to England on 8th July 1905. The last entry on this document is 30th July 1905. Between January and March 1905 he was stationed at Harrismith, a town in Orange Free State, South Africa (Source: Southern Cross Lodge, Freemasonry Membership Records).
The 'British Army List of October 1916' amplifies the above, showing that Bertie was in the Royal Garrison Regiment, from the Militia as a 2nd Lieutenant, on 2nd August 1902, and was promoted to Lieutenant on 21st March 1903. He retained the rank when he transferred to the 1st Battalion, Cheshire Regiment, on 8th July 1905.
Between 21st August 1909 and 30th November 1913 he was employed with the West African Frontier Force. Bertie returned to the 1st Battalion and shortly before the declaration of War he was promoted to Captain on 4th March 1914.
The 1st Battalion was stationed in Londonderry from January 1913 and on the 4th August 1914 to everyone's surprise, orders were received to mobilise for war in Europe.
The section of a photograph of Officers taken at the time (left) shows Bertie back right. On his right is Captain J.L. Shore, O/C 'B' Company, taken prisoner on 13th October 1914, and in front is Captain E.R. Jones, O/C 'D' Company, killed in action on 24th August 1914.
Most of these Officers, including Bertie sailed to France on 14th August and marched to meet the enemy.
On the morning of 23rd August 1914, the British Expeditionary Force met and engaged the enemy at Mons and the following day was undertaking a fighting retreat against a force of four German regiments.
Captain Arthur Dyer was the C.O. of 'A' Company and was ordered to take up position to the east of the line facing the oncoming German Divisions, covering the Wiheries-Audregnies and Élouges-Audregnies road junction.
His 2nd i/c was Captain Bertie Massey, who was severely wounded, as was Lieut. W. G. R. Elliot,  D.S.O. The other two Officers of the Company were 2/Lt. I. Fairweather, D.S.O. and 2/Lt. G. S. Jacobs (Special List), who were both taken prisoner.
The painting shown on the left, by David Rowlands, was commissioned for the 1st Battalion.
It shows probably 'A' Company in position east of the HQ building.  If so the Officer is possibly Captain Dyer.
In an account written from his prisoner of war camp at Torgau on 1st September 1914 Lt. C. A. K. Matterson had this to say about Captain Dyer's action during the Battle of Audregnies:
"2.30 pm Captain Dyer then called out, "Advance and Enfilade the Enemy". I jumped up and left the road and led the attack. I was alone some 20 yards in front of the gallant little firing line of about 6 men who followed me.
I had drawn my sword with scabbard on, the latter, I remember pulling off, and throwing away. There was a hail of bullets, and how I escaped I don't know. I made up my mind it was certain death.
I was soon joined by Dyer and together we headed the little counter attack. We were followed by Jolliffe and Massy, and a few more men. We made two advances, and we raised a cheer when we heard the enemy were retiring, a thing I never saw and do not believe happened.
The picture of this little counter attack I shall never forget. Men were falling all around us and their cries were dreadful. Dyer then said it was hopeless and we must get back. The retreat was almost worse, and the ground was covered with killed and wounded. One bullet hit the ground under my stomach as I raised myself on my elbows. My life, as someone said, "was charmed". I don't think anyone could have had such near escapes.
Dyer was hit twice on the way back, and I stayed with him, and persuaded him to make another effort to get behind the cottage. We went together and I got him back untouched. I found that Major Stapylton had ordered "enough", having discovered that we were completely surrounded, the men who tried to retire being shot down from the left rear. I bound up Dyers wounds, and then the Germans poured up and took us."
….. a .pdf file giving Lt. Matterson's full account of the Battle, supplied by his daughter. [Source: "Prison in Paradise" unpublished memoir of Major Eric Archer Jackson, 2 i/c 'C' Company]
During "Dyer's Charge" it was reported that Bertie was wounded once, but escaped capture as he was reputedly in brief command of the Battalion on 22nd October 1914 from Captain Shore who was wounded at Violaines.
On 25th October 1914 he was probably taken prisoner, possibly wounded as he was no longer in command being replaced by Captain G. A. Woods (Munster Fusiliers) who lasted 4 days before he too replaced this time Lieutenant T. L. Frost of the original 1st Battalion who himself only lasted 6 days in the post before being relieved. However, the War Diary does not mention Bertie during this period, and another source states he was taken prisoner of 4th September, although on that date the Battalion was out of the line.
After initially being sent to Torgau prisoner-of-war camp, on 22nd November 1914 Bertie was sent to Burg prisoner-of-war camp with Lieutenant H. C. Randall.
According to a reference by Private Percy Inwards, 4th Middlesex Regiment, in his Statement of 12th January 1918, he, the Private, was at Madgeburg, as servant to Col. Jackson (Hants Regiment).
They were both moved to Burg (17th/18th November 1914) and Mainz (1st June 1915). They were still there March 1916 when he mentions being caught passing some un-opened tins to Captain Massy of Cheshire Regiment.
On 21st April 1917 Bertie was moved Friedburg prisoner-of-war camp and on 11th December 1917 to Augustabad with Captain A.J.L. Dyer. On 5th January 1918 he moved from Augustabad to Holzminden, and was on a list for Holland with Lieutenant Matterson.
The 13th -14th June 1918 finds him (them)  'At home' at Sheveningham in Holland with other Cheshire officers and wives at 'The Blighty Hut', including Lieutenant Colonel Boger, Major and Mrs B.H. Chetwynd-Stapylton, Captains A.J.L. Dyer, W.L.E.R. Dugmore, H.C. Randall (and his sister), Lieutenants Elliot, G.S. Jacobs and Lieutenant and Mrs C.A.K. Matterson. (Source: Oak Tree magazine)
As described above – Bertie married Mme. Gesina van Enst on 22nd June 1918 at the Bad Kapel, Scheveningen, with the Reception at the Hotel van der Pilj, Scheveningen.
Lieutenant Matterson's account states that on 16th November 1918 he, with fellow Officers Massy, Elliot, and probably Chetwynd-Stapylton, he (Matterson) left Rotterdam for Hull on 'S S Stockport'. However, the December 1918 Oak Tree Article has Bertie, with fellow Officer Lieutenant Fairweather, arriving in Hull on 'S S Willochra' on 18th November 1918, which concurs with War Office Records.
Captain Bertie Massy died on 31st December 1981 in Amstelveen, Noord-Holland.  This means he was the last surviving officer of the Original 1st Battalion, aged 98 when he died.
[Source: "Prison in Paradise" unpublished memoir of Major Eric Archer Jackson, 2 i/c 'C' Company]
Bertie's brother, Private 11606 John Hamon MASSY, was killed in action on 11th November 1914.
John was serving with the Queen's Own Cameron Highlanders and has no known                                      grave. He is commemorated on the Ypres                                     (Menin Gate) Memorial.
He was born in Pembroke on 3rd March 1879. He enlisted in the Grenadier Guards (Private 4818) on 1st June 1899 at Aldershot, aged 20 years 3 months, He served in Gibraltar and Cyprus, but was discharged, on payment of £18 (about £2850 today – 2023), on 24th November 1902, just 1 month after a posting to Alexandria, Egypt.. At that time he stood 6 ft. 1½ ins. (1.87 m.) tall and weighed 11 st. 1 lb. (70.3 kgs.). He had grey eyes, brown hair and a 'fresh' complexion.
He tried, unsuccessfully, to join the Household Cavalry, but by the time of the 1911 Census (RG 14/1188) he was again a serving soldier with the Cameron Highlanders. Later in the years he married Mary Mayall in Brighton, Sussex. There is no record of any children of the marriage.
John travelled with his Battalion to France at the start of the War and was killed in action a few weeks later. On 11th November he was pronounced "Missing, presumed dead". His effects, to the value of £7 3s 7d [£7.38 = about £820 today] were returned to Mary in April 1916. Two years later she received a further £3 War Gratuity [about £220 today].
Bertie's brother, Captain Howard Peel MASSY, was serving with the Prince of Wales's Leinster Regt (Royal Canadians).
He died on active service in Nigeria on 10th December 1914, attached to the Nigerian                                        Regiment, part of the West African Frontier                                  Force. He is buried in the Udi Military Grave,                              Onitsha, Nigeria, the only grave there.
Howard was born on 31st July 1882 at Tenby, Pembrokeshire. By 1901 (Census RG 13/1164) he was a "Gentleman Cadet", boarding at Sandhurst Military Academy.
He was Gazetted 2nd Lieutenant, Leinster Regiment, on 8th May 1901, Lieutenant on 15th August 1903. Howard served for 3 years with the West African Regiment from 14th July 1906 to 16th July 1909, when he returned to the Leinster Regiment. He was employed with the West African Frontier Force (4th Battalion Nigerian Regiment) from 12th July 1911, and appointed Captain on 3rd July 1912.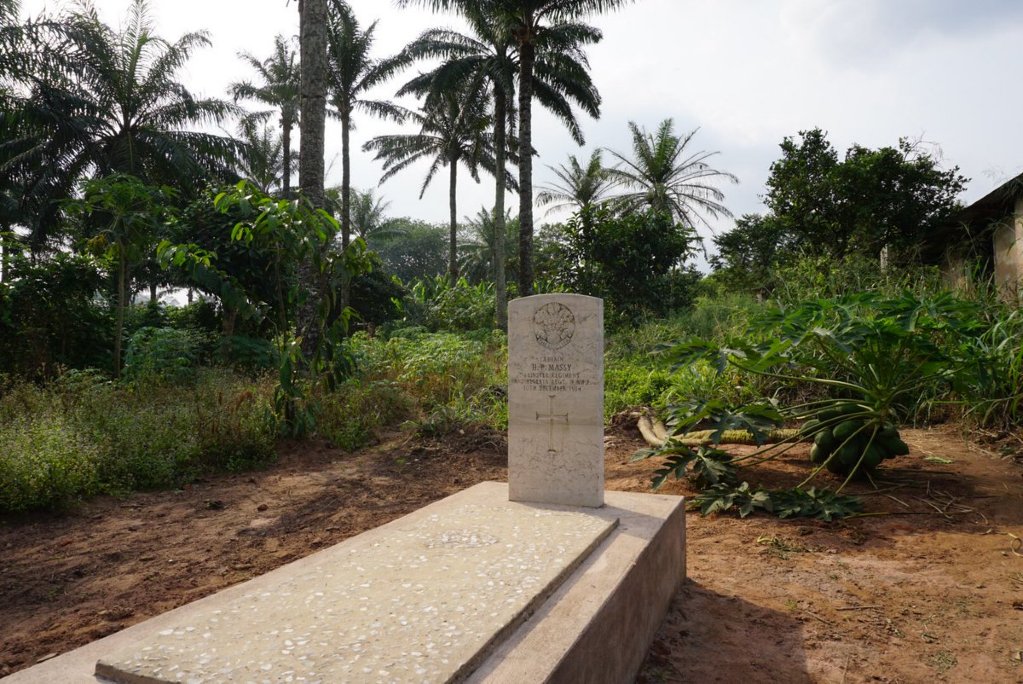 Howard was killed in action on 10th December 1914 in Udi, Southern Nigeria, probably during the campaign in the German colony of Kamerun. Most of the campaign took place in Kamerun but skirmishes also broke out in British Nigeria.